These guys have been a tremendous help with my fishing reels. They are experts and do very nice work. I would highly recommend taking your gear to them. There is a noticible difference after they finish with your reels. Very smooth, and tailored to your exact needs. They have also been very helpful and patient answering all my questions.
Every reel I own goes to Cal's – it's a mandatory tuning before I ever use them. In addition to custom upgrades, every element of the reel is improved: Free spool, drag performance/smoothness, drag lever function (smoothness and greatly improved range). Having custom handles and knobs, gearing, and clamp systems are another discriminator available here. After Cal's blueprint, they just feel and fish right. I strongly recommend and endorse Cal's to all serious anglers who demand and expect the very best performance from their gear.
Cal and Eric Sheets are two extremely knowledgeable custom reel experts who can customize your reels to your exact specifications. Since both have been experienced fishermen with decades of saltwater fishing experience, they understand the flaws and issues of factory made reels. It's mind boggling how much better the reels perform after the Sheets modify your reels to your exact specifications. They have tricks up their sleeves to improve any type of reels for any type of fishing, from Yellowtail and Wahoo to Swordfish and 1000 lbs plus Bluefin tunas and anything in between. I've been doing long range fishing trips for a long time now and I'm still learning from this amazing father and son team. You are not experienced, no problem, just shoot them an email or give them a call and you will be happy you did the next time you are fighting a big bad fish. Just give yourself extra time so you can enjoy their great fishing stories.
I can speak enthusiastically to the caliber of Cal and Eric's work on my saltwater reels. From the first reel Cal worked on to the last, they have all met or exceeded my expectations. Having landed fish both on the East Coast (Prince Edward Island) and the west coast it is extremely important to have reliable gear. Cal and Eric deliver just that consistently...
Had my Penn Fathom 40ld2 blueprinted and Cals did not disappoint. They even got it back to me in short order, prior to a last minute trip. The results are simply incredible: the reel spins better than my star drags and has incredible drag performance at the high end of it's rating
Get the most out of your reels. Got a 16VISX & 50VISX blueprinted and different handle installed. Now I get up to 40 pounds of drag while maintaining freespool like never before 12VISX blueprinted, and FTH25NLD2 blueprinted and had them add their 6.6-to-1 gear in the fathom. Thanks, Eric, Cal and Nancy! I can't wait until my June 8 day trip.
If you want the very best performance out of your saltwater reels let Cal and Eric Sheets at Cal's Custom Built Reels provide their magic! They have been working on my reels for over 30 years,from my Penn custom 80 Narrow and Penn 70 VIS I have used to land and release Giant Atlantic Bluefin Tuna of Prince Edwards Island to landing a 333 lb. Yellowfin Tuna off Clarion Island to the most recent upgrades, increasing the gear ratio to 6.6 to 1 on my Torque 25 NLDSs for Wahoo and the high speed gear for my Penn Int'l 16 VISX for our local Bluefin Tuna. They can truly improve your free spool for bait fishing with their custom "Blueprinting" process along with providing a greater range when applying drag pressure to meet your specific style of fishing. They have the highest level of integrity along with providing a wealth of knowledge on how you can get the most from your reels and fishing experiences. If you want the very best from your reels give Cal and Eric a call at Cal's - Custom Built Reels. You cannot find a better investment or nicer and knowledgeable people in the fishing industry. Rocky W. Opliger
I first started working with Cal, Eric and Nancy at Cal's 2 speed in 1995 to Blueprint my reels. Since then, they have worked on over 40 reels of mine for recreational, tournament and commercial giant Bluefin fishing. They are a pleasure to work with and have become friends over the years. All three are accomplished anglers who understand what it is like to be on a big fish trying to get away. I travel to fish all over the world. There is a very good reason why I make the extra effort to bring my rods and reels with me. They are simply the Gold standard in reels. Regards, Roger Marandino GZ Lures Stand Up Angler/Traveling Angler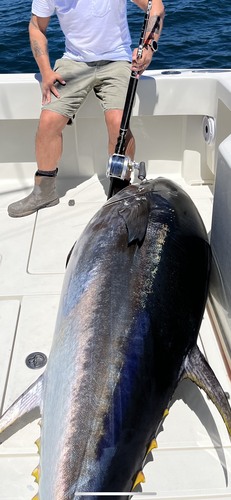 Thank you guys for the job you did on the Talica's - the reels have been awesome- I got a pile of big Bluefin and Yellowfin on them this summer and really happy w/ the reel performance- thank you, have a great summer